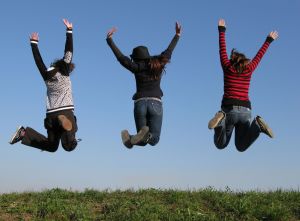 About Healthy People 2020
For three decades, Healthy People has set the nation's public health agenda. Healthy People establishes health goals and objectives, which are revised every ten years to reflect changes in the health challenges facing the nation. These objectives are organized into priority topic areas. Healthy People also provides guidance for programmatic and policy action at the community, state, and national levels.
Adolescents and Healthy People 2020
Healthy People 2020 brings greater focus on adolescence. For the first time, "adolescent health" is designated as a topic area. This paved the way for efforts to assure that Healthy People 2020:
Offers a comprehensive vision for adolescent and young adult health, and
Supports action that focuses on priority issues and fosters multi-sectoral collaboration.
Toward these ends, a group of national experts:
Developed 11 new objectives that fill gaps not addressed by other objectives and aim to help the public health sector partner with other sectors who share a vision of improving the lives of youth.
Identified 41 priority objectives, known as the "core indicators for adolescent and young adult health" which focus on individual outcomes as well as systems that shape health for these populations.
Resources:
NEW! NAHIC's new tool,"A Guide to Evidence-Based Programs for Adolescent Health: Programs, Tools, and More," assists communities and practitioners in locating effective adolescent health interventions. 
NEW! Two new information briefs on Sleep Deprivation and Noise-Induced Hearing Loss, both Healthy People 2020 Core Objectives for Adolescent Health, discuss the causes of each issue and provide evidence-based programs and other resources on the topics. 
Healthy People 2020's "Adolescent Health webinar," held in December 2011, provided great detail on the Healthy People 2020, as well as the work of the Adolescent Workgroup. Click here for slides, handouts and other information shared on the webinar.
Healthy People 2020 also has a series of webinars including one on Adolescent Substance Abuse and one on Bullying Among Adolescents, for the whole list of Healthy People 2020 Webinars, please click here.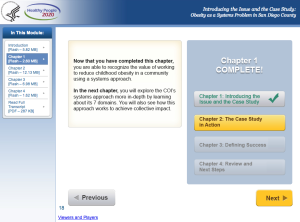 Healthy People 2020 also offers an e-Learning site, "Defining Success in a Systems Approach: The San Diego County Childhood Obesity Initiative." Site visitors can learn more about evaluating a systems approach, using lessons learned in San Diego County about reducing childhood obesity and creating healthier environments.
Visit the site here.
Finally, be sure to revisit "Improving the Health of Adolescents and Young Adults: A Guide for States and Communities." The Guide is an federal publication and was written by NAHIC faculty and staff and federal colleagues. Originally published as a "companion" to the Healthy People 2010 objectives for adolescents and young adults, the Guide offers a starting point for action to achieve the Healthy People 2020 objectives. It is available here.