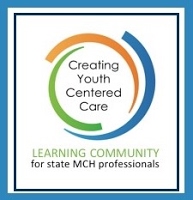 SAVE THE DATE!
The Adolescent and Young Adult Health National Resource Center (AYAH-NRC) is pleased to announce the first Learning Community series:
Learning Community Series #1: Youth-Centered Care

Next webinar—  "Improving Adolescent-Centered Care: Training your team when you don't have the time or resources for training"
Date: January 23, 3018, 1PM EST

Register – HERE
A highlight of free, pre-packaged mini-trainings called "Sparks" created by the University of Michigan's Adolescent Health Initiative:
Designed for health care providers or staff to deliver in 15-30 minutes at staff meetings or professional development opportunities
Used to "spark" discussion and reflection among a multidisciplinary audience
The goal to improve youth-centered health care
There will be 2 sessions, both presented from 1:00- 2:00 PM EST:
January 23, 2018

for 

Public Health professionals

with a focus on how to partner to help health care providers conduct Sparks trainings as part of their clinical QI work.
February 1, 2018

for

health care providers and clinic staff

with focus on how to use Sparks trainings in clinical QI efforts. Register here.

About this series:
This virtual learning series is an opportunity for state MCH professionals and partners to explore the myriad of ways to collaboratively improve health care for youth (age 10-25) with the goal to create care that centers on youth. These opportunities include webinars, case studies and discussion forums to delve into clinic quality improvement, confidentiality, healthcare provider/staff training, youth healthcare literacy, working with FQHCs and community clinics, partnering with youth, statewide partnerships, and more.
YOUTH-CENTERED HEALTHCARE is a framework that weaves together quality clinical care done in a way that connects with and meets the needs of young people.
Accessible

Fosters open communication

Provided by staff skilled in fostering health promotion, risk reduction & healthy development

Based on evidence-based clinical guidelines

Offered in ways that protect confidentiality

Provided in spaces and ways that are welcoming to young people

Engages youth in their care
Archived webinars from this series:
FURTHER INFORMATION
Contact Kristin Teipel (teipe001@umn.edu)