About the AYAH National Resource Center

The Center aims to promote adolescent and young adult health by strengthening the abilities of State Title V MCH Programs, as well as public health and clinical health professionals, to better serve these populations (ages 10-25).
The Center's work will focus increasing receipt of quality preventive visits for adolescents and young adults. This is a focus of many state Title V programs, including those that selected National Performance Measure #10: percent of adolescent (ages 12-17) with a past-year preventive visit. (Click here for more information about National Performance Measures and adolescents.)
The Center is a collaboration led by the National Adolescent and Young Adult Health Information Center, in the Division of Adolescent and Young Adult Medicine at the University of California, San Francisco, in partnership with: the Association of Maternal and Child Health Programs; the University of Minnesota's State Adolescent Heath Resource Center; and the University of Vermont National Improvement Partnership Network.
For more information please read our fact sheet and roster of partners.
We support efforts to improve the receipt and quality of preventive services care through the following activities:
The AYAH Collaborative Improvement and Innovation Network (CoIIN)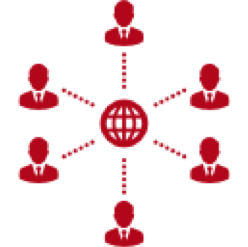 We are adapting the CoIIN model to help selected states address the well visit for adolescents and young adults. The CoIIN model, used by many states to address infant mortality, combines collaborative learning and quality improvement methods to drive a national strategy. We launched our first CoIIN in May 2015 with Iowa, Mississippi, New Mexico, Texas, and Vermont.  Stay tuned for more updates about the second CoIIN.

To learn more about the AYAH-CoIIN, and the profiles of our first five CoIIN states, please click here
Technical Assistance and Learning Opportunities
We offer support to all 38 states that have adopted National Performance Measure #10.
Stay tuned for tools, webinars, and on-line learning opportunities addressing public health- primary care partnerships, marketing the preventive visit, and more!
Tools and Resources
We are developing a range of tools and resources. See below for the most recent resources.
Our CoIIN, technical assistance and tools/resources will address five content areas.
Access: Ensure that all young people are able to access and use health services
Quality: Improve the delivery of youth-centered health care
Integration: Improve partnerships and system coordination among states, health care delivery systems, insurers communities and other stakeholders
Equity: Address structural determinants of health that drive disparate outcomes and create barriers to adolescent and young adult receipt of quality services
Accountability: Improve the capacity of states, health care systems, and other partners to monitor access and quality at the state, local and clinic level.
For complete list of resources, please click here.
Presentations from March 2017 on: tools, resources, and initiatives to increase receipt of the well visit & preventive services; innovations in CPS delivery systems; and the potential impact of health reform on CPS. Click here to see these presentations given at the 2017 SAHM meeting.
In May 2016, two webinars on 'marketing the well-visit' were hosted by the State Adolescent Health Resource Center (SAHRC), core Center partner. Click here for more information and links to view the webinars.
This compendium offers promising practices from "top performing" states related to improving access to health insurance and quality preventive visits among AYAs. Read about innovative efforts to create partnerships, reach special populations, use social media, engage youth and more!
Looking for resources on related topics? Use the NAHIC search box and 'Popular Topics' menu to find more resources on confidentiality, access to care for vulnerable populations, and more.
See what's happening at the Resource Center, and get the latest news and resources on adolescent & young adult health:
Follow us on Twitter: @NAHIC_UCSF
Click here to subscribe to the monthly AYAH Center Newsletter and view past issues!
---
More Information!

The Center is grateful for funding from the federal Maternal and Child Health Bureau (CA #U45MC27709)
Last updated: April 28, 2016