Despite decades of adolescent preventive well visit and services promotion (Guidelines for Adolescent Preventive Services and Bright Futures), rates are below recommended levels and little is known of the effect of the Patient Protection and Affordable Care Act (ACA) implementation on these care rates. In a new article, NAHIC researchers compared pre- and post-ACA rates of well visits and preventive services among adolescents ages 10-17.
The study found modest to moderate increases post-ACA implementation, with greatest gains for underserved youth, in preventive care rates for adolescents. While encouraging, still, fewer than half of all adolescents had a recommended annual well-visit in the past-year, and that includes those who were insured for the full year. These results further highlight the need for increased efforts to bring adolescents into well care and improve clinician delivery of preventive care within their practices.
This study was produced by the National Adolescent and Young Adult Health Information Center, as part of the Adolescent and Young Adult Health National Resource Center. For more information about the Resource Center, please click here.
View the article's abstract here: http://jamanetwork.com/journals/jamapediatrics/fullarticle/10.1001/jamapediatrics.2017.3140. Also, read the accompanying editorial by Abigail English, JD, Director of the Center for Adolescent Health and the Law here: https://jamanetwork.com/journals/jamapediatrics/fullarticle/2661145?resultClick=1.
You can also check out Dr. Sally Adam's, primary author of this article, interview with Kaiser Health News on the results of this study here: https://khn.org/news/despite-aca-cost-protections-most-adolescents-skip-regular-checkups/, as well as Dr. Adams interview with MedicalResearch.com on the implications of these findings here: https://medicalresearch.com/pediatrics/most-adolescents-not-receiving-important-health-care-preventive-services/37910/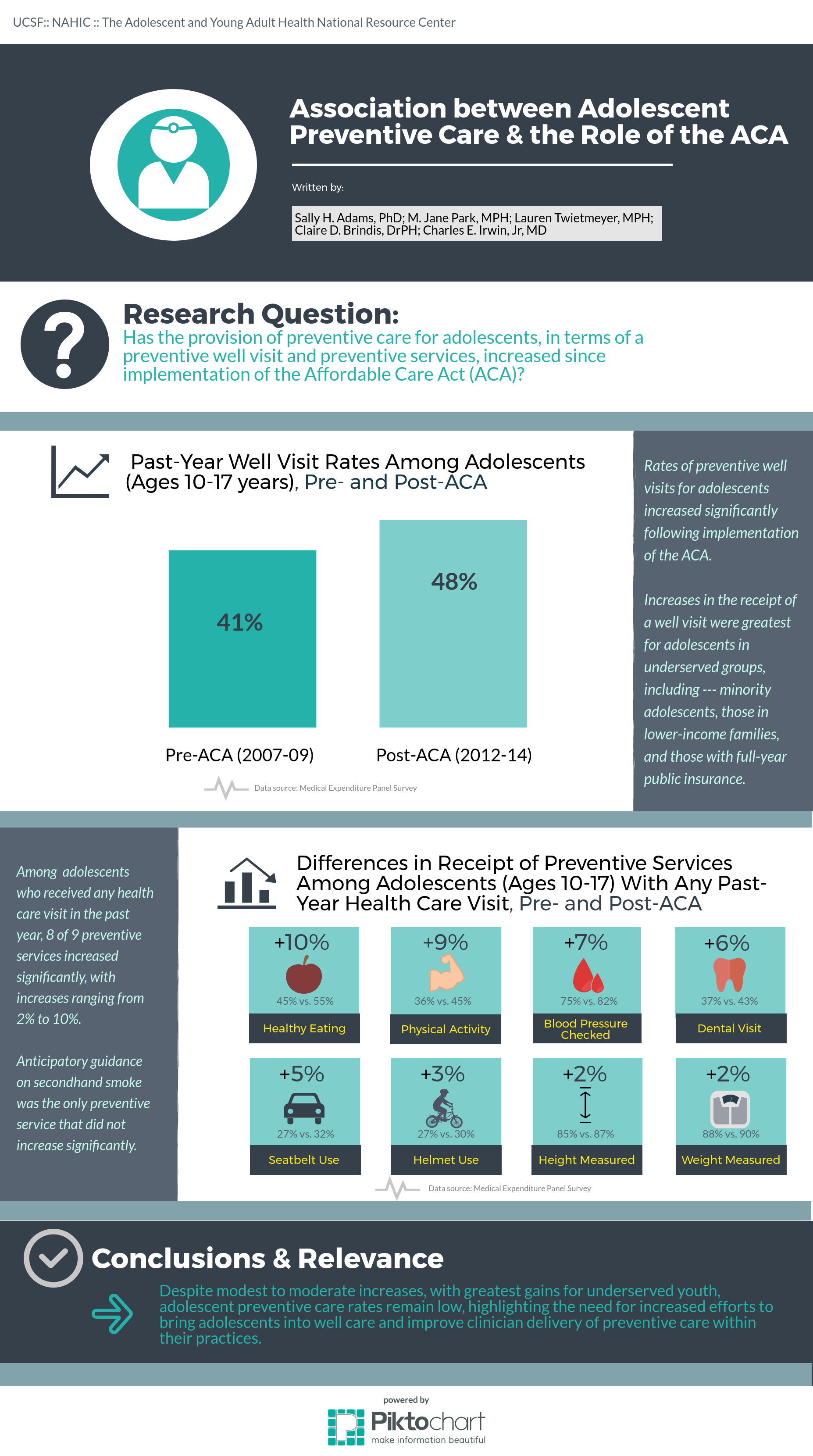 Click infographic to view full image.