A Guide to Improving Young Adult Health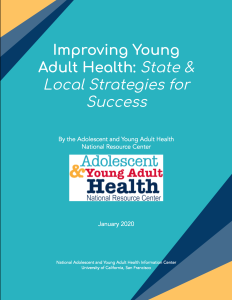 The Adolescent & Young Adult Health National Resource Center has published a guide outlining five key strategies that states can adopt to improve young adult health. Strategies are based on a review of young adult (YA) health policies and programs across all 59 states and territories and interviews with Title V leadership in states that have adopted a YA measure. Real world examples, resources with links and lessons learned from states that have implemented young adult health activities are shared in this document.
Five Key Strategies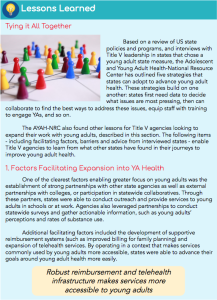 Additionally, Title V programs should expand infrastructure for telehealth, partner with Medicaid to increase insurance rates and advocate for robust reimbursement systems for services commonly used by YAs. These factors can help improve healthcare access among YAs, who have the lowest healthcare utilization of all age groups.
Though the field of young adult health is new, more and more entities are beginning to recognize the need to address the young adult population differently. Nationally, heightened concern over health issues that tend to worsen in young adulthood – such as substance use and mental health issues – have drawn needed attention to this demographic. Further, public health organizations' shift toward a life course approach requires greater consideration for the changes in legal, social and financial context that impact young adults' health. With help from the strategies and resources in this document, the goal is for state Title V agencies to take action to increase their focus on young adult health.
Learn more by reading the guide online or as a PDF.
Table of Contents
| | |
| --- | --- |
| Introduction | Background on how and why young adults' health differs from other age groups, why there is a need to focus on YA health and how Title V & other organizations can take action |
| Strategies Overview | Brief overview of the five key strategies and the rationale/sources used to develop these strategies |
| Strategy 1: Collect Data & Adopt a Measure | Specific guidance on available young adult health data sources, measures and how to utilize data to advance your state's goals |
| Strategy 2: Build Collaborative Networks | Information on how, why and who to collaborate with on young adult health initiatives |
| Strategy 3: Provide Training on Young Adult Health | Methods that any organization can use to increase its expertise on young adult health |
| Strategy 4: Create Young Adult Targeted Programs | Ideas to design programs that more young adults will relate to and engage with |
| Strategy 5: Use Innovative Outreach | Approaches that states can take to increase the effectiveness of outreach to young adults, both through digital and traditional platforms |
| Lessons Learned | Facilitating factors, barriers and advice from state Title V programs that have adopted a young adult health measure |
| Resources | A condensed list of helpful resources related to young adult health, organized by topic (e.g. health insurance, mental health, reproductive/sexual health) |
| Methods | Detailed information on where the recommended strategies in this report came from |
| Acronyms | A list of commonly used acronyms within this report |
| References | Citations and links to data and files referenced in this report |
Acknowledgements
This publication is supported by the Health Resources and Services Administration (HRSA) of the U.S. Department of Health and Human Services (HHS) (under #U45MC27709, Adolescent and Young Adult Health Capacity Building Program). The contents are those of the authors and do not necessarily represent the official views of, nor an endorsement, by HRSA, HHS, or the U.S. Government. For more information, please visit HRSA.gov.
The Adolescent and Young Adult Health National Resource Center (AYAH-NRC) is led by the University of California, San Francisco/National Adolescent and Young Adult Health Information Center (UCSF/NAHIC) in partnership with the Association of Maternal and Child Health Programs (AMCHP), University of Minnesota/State Adolescent Health Resource Center (UMN/SAHRC) and University of Vermont College of Medicine/National Improvement Partnership Network (UVM/NIPN).
NAHIC and AYAH-NRC would like to extend a special thanks to the Title V/Maternal and Child Health stakeholders from our selected states for participating in this project. This resource would not have been possible without your insights into state-level efforts to improve young adult health, and your continuing commitment to improving access and quality of care for this population.
Learn more about our work at nahic.ucsf.edu/resources/resource_center/
Cite as: Po, J., Brindis C. D., Adams, S., Teipel, K., Park, M. J., & Sieving, R. Improving Young Adult Health: State & Local Strategies for Success. San Francisco, CA: National Adolescent and Young Adult Health Information Center, University of California, San Francisco; 2020. Available at: https://nahic.ucsf.edu/resource_center/ya-strategies/